Online Property Management Planning (PMP) Climate Change Module
The CCA will develop an online module called "What does climate change mean for my farm?" to complement our existing property management plan online modules.
FUNDING PROVIDER
State Government
DURATION
2020-2021
Defining and mapping habitat requirements to support the survival of
King Island Scrubtit and King Island Brown Thornbill
As two of Australia's most critically endangered species, this project will improve understanding of King Island Scrubtit (KIS) and King Island Brown Thornbill (KIBT) populations and habitat and enhance the species' chance of survival by guiding more targeted management intervention in the future.
FUNDING PROVIDER
Federal Government
DURATION
2020-2022
Little Penguin Toolkit
A new citizen science-based toolkit was recently launched by Minister for Primary Industries and Water the Hon. Guy Barnett and Cradle Coast Authority CEO, Daryl Connelly.
Funded by the Tasmanian Government and developed by CCA's Natural Resource Management (NRM) team, the toolkit will help land managers and community groups monitor Tasmania's Little Penguin populations and manage threats to their colonies.
FUNDING PROVIDER
State Government
DURATION
2018 – 2020
Local Government Australian School-based Apprenticeship (ASbA) Program
Councils are looking to provide more jobs for young people and this program aims to make it easier for Councils, schools, and young people to navigate SBAs. The project will increase the number of SBAs within Councils, help Councils understand the benefits of SBAs, and map SBAs to areas or current and future skills shortages.
FUNDING PROVIDER
State Government
DURATION
2019 – 2021
Cradle Coast Cat Tracker
Have you always wondered where your cat goes when you see them leaving the house in the morning? At least 70% of cat owners allow their cat to roam away from their property, but do we really know where these cats go once we open the door? The Cradle Coast Cat Tracker Project would like to unravel the mystery. We would like to follow your cat using a GPS tracker and find out where your feline friend goes when they leave the protection of your home. Do they visit lots of other properties or do they cross any busy roads? Aren't you curious to find out?
FUNDING PROVIDER
State Government
DURATION
2018-2021
Tasmanian Weeds Action Fund
The Tasmanian Weeds Action Fund (WAF) is a $5 million State Government initiative, funded for five years from 2018/19. The funds provided by the WAF will be invested with farmers and other community organisations to tackle weeds impacting valuable agriculture and environmental assets. CCA have partnered with NRM North and NRM South to deliver Stage Two o the fund over the next three years, the fund will be available state-wide, and those interested in seeking funding should register their interest now.
FUNDING PROVIDER
State Government
DURATION
2018-2023
Coastal Saltmarsh Recovery in Robbins Passage and Surrounds
This project aims to improve the condition and long-term protection of the Coastal Saltmarsh Threatened Ecological Community by targeting Rice Grass, the primary ecological threat to saltmarsh, and by brokering and establishing conservation agreements with landholders to maintain and protect saltmarsh on their properties.
FUNDING PROVIDER
Federal Government
DURATION
2020-2023
Constructing the Coastal Pathway
Jointly funded by the State and Federal Government along with Latrobe, Devonport City and Central Coast Councils the $14.4m Coastal Pathway extension project will see 21km of additional pathway built between Latrobe and Sulphur Creek between 2020 and May 2022.
FUNDING PROVIDER
Federal / State / Local Government
DURATION
2019 – 2022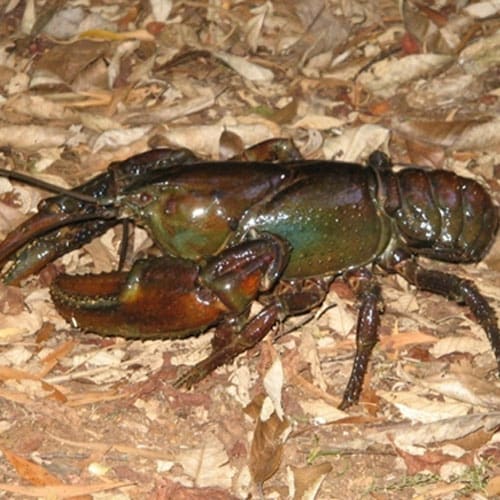 Giant Freshwater Crayfish Recovery
This project will protect and improve priority stream habitat for the highly valued and vulnerable Giant Freshwater Crayfish. Working with landholders to establish conservation agreements and undertake riparian protection and rehabilitiation works, the project will increase the area of the species range that is protected from further habitat loss and degradation.
FUNDING PROVIDER
Federal Government
DURATION
2019-2023
Food Producers Network
This initiative will support start-up agritourism, food and drink businesses in the region. In partnership with new food business incubator, Seedlab Tasmania, CCA will support the delivery of a number of business bootcamps and masterclasses at Smithon, Devonport and between which will form the basis of a Food Producers Network.
FUNDING PROVIDER
Industry / Federal / Local Government
DURATION
2019 – ongoing
Protecting Our Productive Soils
This project will engage and support farmers to build capacity to better manage hillslope erosion on mixed cropping farms and soil acidification on intensive grazing enterprises. This will achieve practice change on the ground and improve the sustainability of natural resource management across our productive landscapes.
FUNDING PROVIDER
Federal Government
DURATION
2019-2023